POWER AND COMMUNICATION SYSTEMS Modular Wiring Solutions:
The Dependable Source for All Your Power Distribution Needs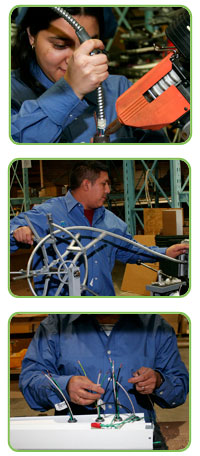 Power and Communication Systems is the source for the best quality in custom-designed power distribution components. Our unique products simplify power distribution dilemmas and offer flexibility for quick modifications.
Who is POWER AND COMMUNICATION SYSTEMS?
POWER AND COMMUNICATION SYSTEMS sold the first component from its Nashville headquarters and manufacturing site in 2004. Our founders and principals have over 50 years of combined experience in the electrical contracting industry - both on the manufacturing and the customer side - so we understand all facets of your project, as our loyal customers can testify.
Our track record for creative power problem-solving required us to expand to a 25,000 square-foot warehouse in 2007. With a flexible workforce that can manufacture at maximum capacity for rush orders, shipping from our Nashville location puts material on most jobsites within 3-5 days.
We specialize in state-of-the-art power component design and fabrication to solve power distribution issues that might short-circuit our competitors.
Our services include:
Custom Design & Fabrication of Wiring Components and Modular Systems
Pre-Assembly of Wiring Components
Commercial Lighting Application Components
Industrial Application Components
Don't Short-Circuit Your Lighting or Power Distribution Systems - Trust POWER AND COMMUNICATION SYSTEMS!